SPOTLIGHT: Graduate of Aga Khan Higher Secondary School, Karachi represents Pakistan at the International Cricket Women's World Cup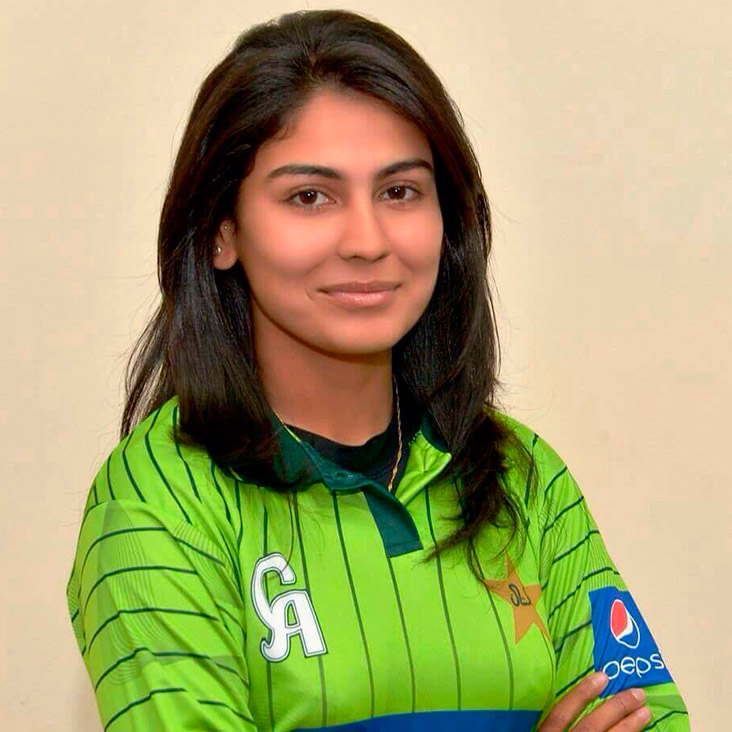 An all-rounder cricketer, Kainat Imtiaz, has been selected to play for Pakistan at the International Cricket Council Women's World Cup 2017 in England.
The team's first match of the tournament will be against South Africa on June 25th, 2017. The team will also play against England, India, Australia, New Zealand, West Indies and Sri Lanka.
Kainat, age 24, and has been playing cricket since a very young age. "I was born in 1992, the year in which Pakistan won the Cricket World Cup" she says. "My parents decided that that was going to set the stage for me." Kaniat started her career in 2009 as captain of the Under-17 Karachi Regional Women's Cricket Team, and then became captain of the Under-19 Team in 2010 and 2011. She also played for the State Bank of Pakistan Cricket Team. Kainat's International career started in 2010 when she played against South Africa in a T20 cricket match. In 2017, she represented Pakistan in a series of 10 matches against the Under-19 Boys team, where she was declared player of the series.
Kainat comes from an athletic family with both her parents being athletic sport instructors. This has made her life as a female sportsperson in Pakistan that much easier—along with the support she received from her school, Aga Khan Higher Secondary School, Karachi. "The school supported me immensely," she says. "I regularly had to leave for cricket camps and tours, which meant I would end up missing my classes and exams. The school encouraged my sport endeavors and set alternative times to sit my exams - I passed them all!" she says.
The school's administration made sure that Kainat had academic help available outside classrooms, accommodating her busy life as a national cricketer. "I used to stay three, sometimes four hours after school ended, trying to catch up with my classes. The school made sure I stayed on top of my schedule. If not for their support, I would have been far behind." In this regard, Kaniat often recalls her relationship with the sports teacher: "I remember my sports teacher at AKHSS, Karachi, Miss Shagufta, who still teaches there. She always supported my passion for cricket," says Kainat. Miss Shagufta was instrumental in getting the school administration to accommodate Kainat's schedule. "Even when I sat my exams, she kept checks and balances to assure that I never neglected my practice or my academic studies."
Kainat's experience has not been a typical one, with a family as supportive as hers. "I would have given up at various points in my life, but it is all because of my parents that I have come this far." However, Kaniat's teammates have a more difficult time. "Women have no private spaces for sports grounds, and have to practice in public. Culturally, this has been difficult for our team." However, the Pakistan Cricket Board has been helpful as they personally contact the families of the cricketers to offer reassurance and support. This, coupled with the determination of the young cricketers, makes them an impenetrable force to be reckoned with.
As Kainat says: "To all the girls out there who are passionate about sports, follow your dreams, they will take you places."