SPOTLIGHT: Student meets President Kenyatta after being selected for PURES programme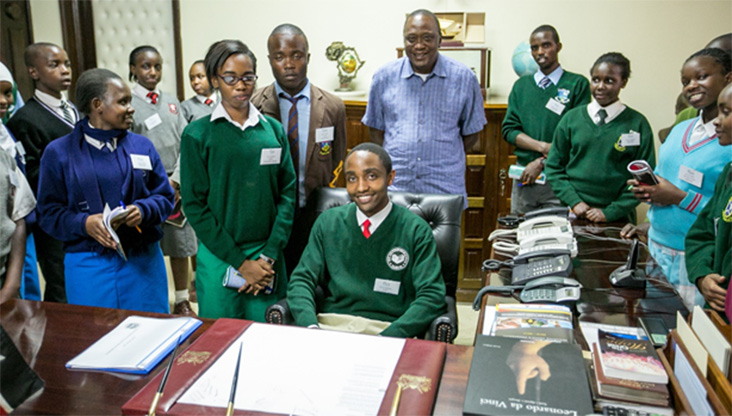 A bright student from Aga Khan High School Nairobi (AKHS,N) was recently selected for The Pupils' Reward Scheme (PURES) programme. Dennis Gichuku, a Form Four student and Head Boy at AKHS,N, was invited to the State House for the PURES programme this year.
He participated in the seminar and shared light moments with the President himself. At the end of the exciting week, he was declared the best student and has been offered an internship at the Energy Regulatory Authority after his final exams later this year.
PURES is a unique programme initiated by President Uhuru Kenyatta and First Lady Margaret Kenyatta of Kenya. The programme, in its third year, aims to encourage pupils to work hard in their studies and instill in them a sense of discipline, direction and patriotism in order to serve their country better. Students selected for the programme are leaders in their communities and schools and are invited to visit the State House to meet with the President and engage in a week long Leadership Seminar in which they have the opportunity to visit various Government institutions. PURES aims to open up the minds of the young people, encourage them to pursue careers in government or national leadership in the future and provide good mentorship with the hope that this will address some of security challenges in public service that have been perpetuated by misguided youth in the country.
Established in 1961, the Aga Khan High School, Nairobi is a private co-educational, multicultural day secondary school. It believes very strongly that it is an institution that encourages inquisitiveness, rational inspiration, fun, and provides challenging demands. It also allows the holistic development of character that cultivates success beyond the classroom.