Debate team medals at Yale University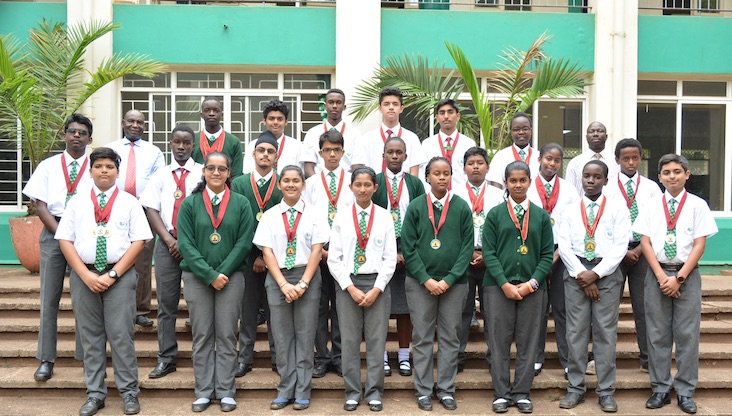 Bringing home a total of 34 medals, Aga Khan students from Uganda triumph at Yale University during the Tournament of Champions.
During the tournament, New Haven-Connecticut, USA was home to students from around the world. Every round of debate was exciting, filled with fierce competition and interesting people to meet.
There is something magical about attending the Tournament of Champions at Yale University. To begin with, it's essentially the world finals of a global debate competition, and its filled with a high stakes energy knowing you're competing against the best debate teams from around the globe.
This year, Aga Khan High School, Kampala (AKHSK) brought a delegation of 22 students and three teachers to Yale. The team performed incredibly well, winning numerous medals. Outstanding achievements in the category of writing and debating was awarded to Simran Khan, Philomena Patience Anzoa, Kishan Patel and Opi Ignatius for the senior's top 100 Scholars.
In both the Regional and Global Rounds prior to Yale, the students enjoyed outstanding success so confidence was running high. Nationally, AKHSK achieved first place from across Uganda. Moving on to the Global World Scholars' debate held in Greece, the team emerged second-best in Africa among the top 14 schools in the world. The students were well prepared and fiercely ambitious, having undergone training sessions in all types of debates, including Parliamentary and Model United Nations.
The competition not only broadens students' minds beyond the curriculum, but also introduces hot debate topics to be applied in a real-world context. Day after day, students worked together to find solutions to current global issues. Furthermore, students had the opportunity to interact with and learn directly from Yale students and faculty, allowing them to better understand and prepare for college life. One student, Alexandria Ninsiima, said: "The Tournament of Champions gave me the opportunity to interact with people of different cultural backgrounds, and it opened my eyes to the issues of the world today in different industries such as technology, performing arts, and politics."
The Aga Khan High School, Kampala was established in 1959 and has a long tradition of leadership in educational development. The school serves approximately 550 students from over 30 nationalities and offers both national and international curricula, including the Cambridge IGCSE and International Baccalaureate Diploma Programme (IB).
Learn more: