Aga Khan High School Celebrates IB Diploma Programme Graduation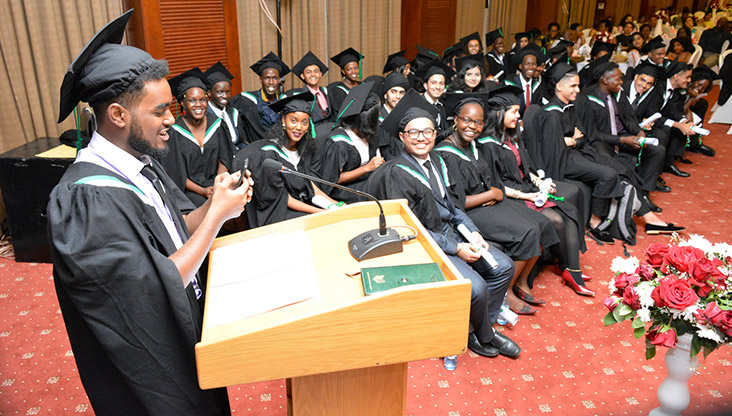 On 25th May, 2018, the Aga Khan High School, International Section, held its annual International Baccalaureate Diploma Programme graduation ceremony at the Serena Hotel in Kampala.
The event was graced by senior officials from the Ministry of Education and Sports, Mr Ismail Mulindwa, National Commissioner, private schools and Ms. Juliet Namuddu Nambi – Director, Education- Kampala Capital City Authority.
In his address, Mr. Mulindwa affirmed that the Aga Khan School is recognised by the government for providing high quality education that is affordable. The graduating and in-coming IBDP2 students entertained guests with increadible live performances including a song that was composed by one of the graduating students. On that day, each student received a certificate highlighting their achievements.
In their address to the graduating class, Aga Khan Education Service, Uganda (AKES, U) leadership reminded graduates to live and work ethically, and to continue to serve their local communities in Uganda and abroad.
Over the course of the IBDP programme, Aga Khan students have helped in the construction of classroom blocks in a number of schools in Uganda, visited homes for underpoversished children and run donation drives for food, stationery and clothing. In the neighboring communities, students lead health campaigns on malaria and prostate cancer which were carried out in cooperation with companies such as Kampala Pharmaceutical Industry, Aga Khan University, Uganda Cancer Institute, Makerere University Medical School, Habitat for Humanity, Uganda Wild Life Education Centre Orient bank and Diamond Trust Bank.
AKES, U has been operating the IB programme for 11 years. During this time, it has graduated 320 IB students. The School's average IB score in 2017 remains higher than the global average. The IB programme at AKES, U is lead by over 20 experienced and qualified teachers, of whom 15 are IB examiners. The quality of AKES, U IB program has been endorsed by many standard setters, including the International Baccalaureate Organistaion (IBO) during its regular assessments.
AKES, U congratulated all of it's graduates, and wishes them success in their future endeavours!