Mzizima hails victorious at the The World Scholar's Cup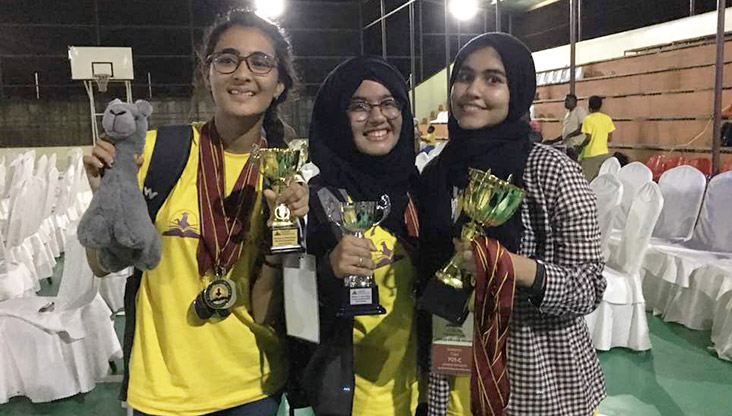 Aga Khan Mzizima Secondary School was the most outstanding school in the World Scholar's Cup (WSC), Regional Round winning over two hundred trophies and medals.
The students secured top positions in diverse areas including Human Relationships, Literature, Art and Music, Social Studies and Science in this year's theme of The Entangled World. Over 25 dynamic Mzizima scholars from Year 7 to IBDP 1 participated with amazing zeal winning the Best Junior Team award, the Best Debating for Senior and Junior Teams, and top awards in other components of the WSC such as Scholar's Challenge, Collaborative Writing and Scholar's Bowl. Mzizima scholars swept the debating awards winning close to 25 debates, lead by the unbeatable trio, Viwaswan Jha, Arav Dhoot and Surya Ganesh who bagged the Best Junior Team Award. Mariya Putwa, Ronald and Akriti Gupta were the 3rd Top team in the senior division. Nahid Salim, Sarah Mustafa, Viwaswan and Shreesh Agrawal secured the top, 2nd, 3rd, 4th and 6th positions respectively in the junior division. Sumana Taki was the 2nd top scholar in the senior division with Nimira Bhanji, a close 5th.
Mzizima's star student, Huzefa Yusufali, secured the 2nd position as Top Speaker for debating in the Senior Round. Huzefa also won the Best Junior Speaker, Best Male Speaker and Best Speaker in Africa Open Debate Championships held recently in Dar es Salaam and will join the national team representing Tanzania in the World Debate Championships in Zagreb, Croatia in July 2018.
Congratulations to all students for their exemplary performances!