Professional Teacher Collaboration connects teachers between the UK and Central Asia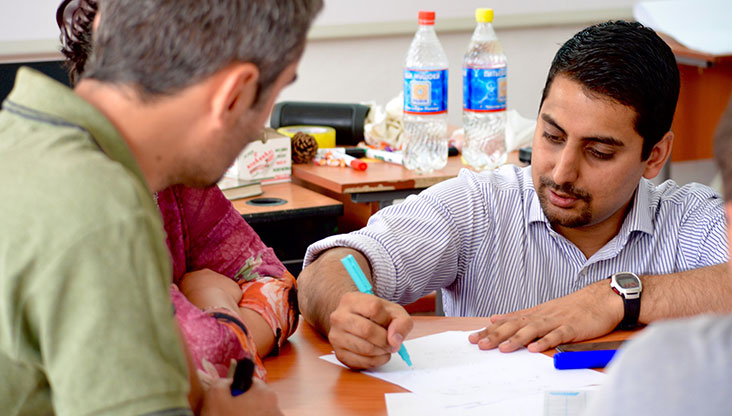 In February 2018, Aga Khan Education Services (AKES), Tajikistan & Kyrgyz Republic, in collaboration with the Aga Khan Education Board for the United Kingdom (AKEB, UK), launched the very first Professional Teacher Collaboration Project (PTCP).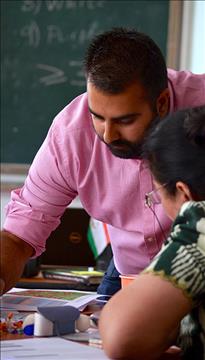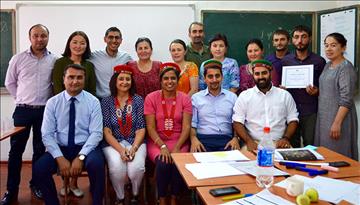 Over the course of six days, four highly skilled UK-based educators led professional development for 11 teachers from across Central Asia, held at the Aga Khan Lycée in Khorog in August 2018. The PTCP connects mathematics teachers, carefully selected by the AKEB, UK, with mathematics teachers from the Aga Khan Lycée in Khorog (Tajikistan) and the Aga Khan School in Osh (Kyrgyz Republic).
In mobilizing Aga Khan Development Network (AKDN) and the Ismaili Imamat's Institutions' global resources, this programme draws on international expertise to promote the exchange of best practice and enhance the delivery of high-quality education leading to excellence in student achievement.
The rigorous training engaged teachers in ¬¬pedagogies that demand critical thinking, conceptual teaching, and participatory learning. It consisted of developing strategies for problem-solving, evaluation and assessment, and differentiated learning among others. The programme is part of AKES' continued efforts to strengthen capacity for the delivery of core curricula and to ensure that students' mathematics performance positions them for successful entry to top tertiary education institutions such as the University of Central Asia, the Aga Khan University, and others in the region.
"We were with our colleagues from [the Aga Khan School in] Osh. We shared our ideas. Together we learned from each other as teachers and we also learned new ideas from our trainers from the UK," Islom Dushanbev, the Head of the mathematics department at the Aga Khan Lycée, Khorog and a participant in the PTCP. "Bringing together these ideas and methods is really important for our growth as teachers and also as a department."
The programme also paved the way for significant exchanges in experiences, best practices, and approaches, and established what will hopefully continue as long-term professional relationships amongst all participants and volunteers. "It's difficult to change your teaching style," said Husnara Mansoor, a mathematics teacher at the Brit School of Performing Arts, Croydon with over 20 years of experience in her field. "I think I was also able to relate to them in that I've come from Pakistan and moved to England, and I was able to share my [teaching] journey with them."
The training culminated with a certification ceremony during which both participants and volunteers exchanged heartfelt appreciation, a testament to the strength of relationships and knowledge exchanges that the programme facilitated. Ongoing mentoring, monitoring and evaluation of the initiative and its impact will seek to track teacher and student performance to ensure the best quality programming continues to be provided for both teachers and students.
"It's been really unifying as we've all identified challenges that we experience, even though we're from different parts of the world," said Sugra Alibhai, a Vice-Principal and Head of the Sixth Form at the Isaac Newton Academy in the UK and a volunteer teacher for this year's programme. "We're embracing the same challenges."
Top: Khaleel Ladhani, a UK-based mathematics teaching professional, supports teacher learning during the six-day training in Khorog.
Bottom: Professional educators from the UK led a professional development programme for Aga Khan mathematics teachers from Osh and Khorog at the AKL.
Story/Photo by Sahar Ibrahim