Aga Khan School, Mundra named as #1 school at Asia's Biggest Education Event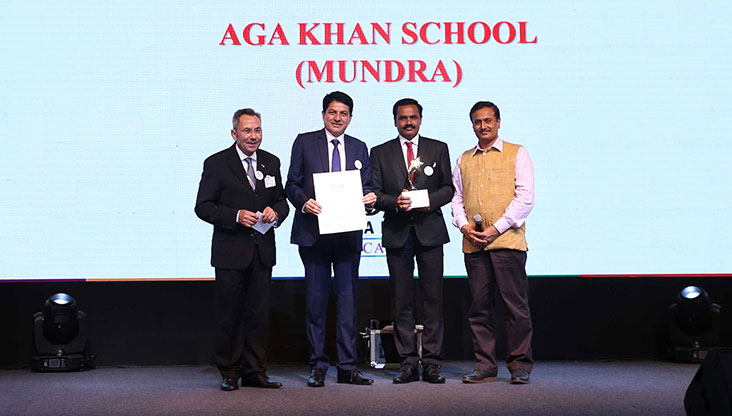 "An education must equip students with the tools that enable them to adapt and thrive in a world characterised by change." -His Highness the Aga Khan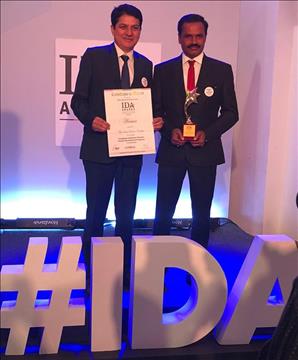 At Asia`s biggest education event organized by The India Didactics Association (IDA) at the Bangalore International Exhibition Centre, The Aga Khan School, Mundra was awarded as India's No. 1 school for 'Exemplary Initiative Towards Faculty Development Programs'. The school was selected from more than 1600 entries from across India and was appreciated for its efforts toward the professional development of its teachers by the India Didactics Association (IDA). While receiving the award Mr Giridhar Reddy, Principal of Aga Khan School, Mundra, said "This is the outcome of continuous investment in professional development by Aga Khan Education Service, India. The institution will continue its endeavour to provide quality education through the ongoing professional development of its teachers and leaders".
Established in 1905, The Aga Khan School, Mundra, one of the first schools in Mundra, was started with the intent to provide education and support to the local community and has evolved over time as a renowned CBSE school. It has also recently received an award by EducationWorld India, the world's most detailed schools ranking survey, ranked at #2 across the entire Kutch region on 14 parameters. The school's emphasis is on teaching pedagogy and student-centred learning and considers teacher professional development a part of its core values. The school regularly conducts teacher training on different topics such as Early Childhood Development (ECD), Student Evaluation, Teaching Pedagogy for Math and Literacy, and Cambridge English Language. It is the only school in the region to boast of Cambridge Certified English teachers. "Aga Khan Education Service, India believes in inducting students with 21st-century skills. The Aga Khan School, Mundra has been a training hub for regional as well as international training, with attendees travelling from across the state to attend these trainings", said Dr. Iqbal Sama, Head Special Projects and Gujarat Office.
Cambridge Training of teachers enriches their vocabulary and sentence construction; this further enriches the language the teachers use in class, thus having an impact on the students. With better language skills, students are able to cope much better during competitive exams. Training for Maths programs, such as Jodo Gyan and Navnirmiti, help teachers to make abstract concepts concrete, as students develop better visualization skills. Training from the CBSE equips teachers to train students to acquire life skills and cope with examination pressures in a more effective way. ECD training helps teachers to develop positive social attributes, health and hygiene, fine motor skills and phonics among students.
The school conducts regular outreach programs for the local community. Recently, a delegation of the School Council members met the Sarpanch, took permission and initiated a plantation drive in the colonies surrounding the school as a part of the World Environment Day celebration. Plants are donated on birthdays and during fairs to the people of Mundra town. In alignment to the Government's Swachh Bharat initiative, and as a part of Eco Club activities, students present street plays, mime and dance-dramas at various fairs and gatherings in the town, to stop the use of single-use plastic and to advocate cleanliness. Children also conduct rallies and home visits to promote cleanliness in the neighbouring areas.
Aga Khan School, Mundra is a part of a global network of 200+ Aga Khan Schools and education programs, spread across 13 countries. Aga Khan Education Service, India manages 8 schools, a hostel and 19 Pre-schools across Gujarat, Maharashtra and Telangana. Aga Khan Schools are equipping young learners with the knowledge, skills, attitudes and values to thrive in a complex and dynamic world. Children are taught to make ethical choices, to embrace the strength of pluralism and to serve in their communities, while aspiring to be global citizens. In Gujarat, Aga Khan Education Service, India is a core group member of Gujarat State's Integrated Child Development Services (ICDS) Department and provides technical inputs in developing curriculum, teaching methods, designing various tools for monitoring and evaluation and acts as a consultant, whenever required by the ICDS department. The school will continue its pursuit of excellence, while preparing its students to become responsible citizens and leaders of the future.