Outreach Programmes by Aga Khan Education Service, India (AKESI)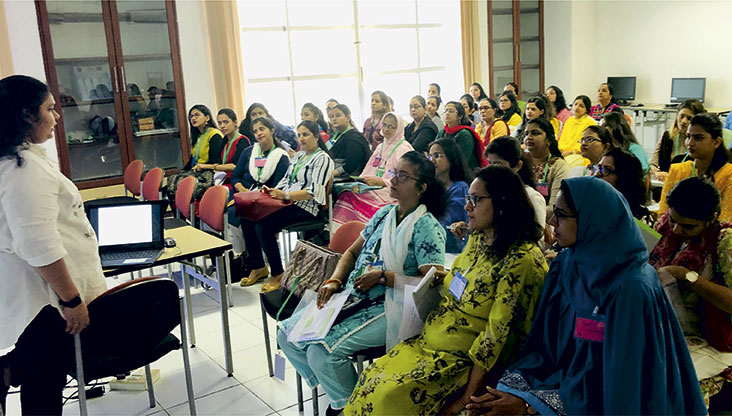 "Little children learn through play". That's the message the Aga Khan Education Service India (AKESI) was promoting in the workshop it held for teachers from pre-schools across Mumbai.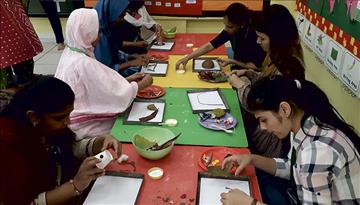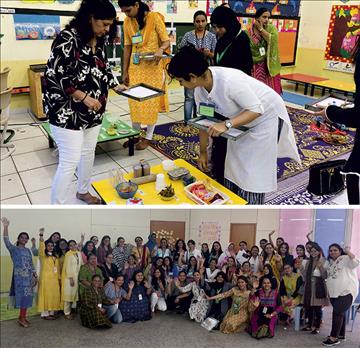 AKESI, is part of the Aga Khan Development Network, and committed to positively impacting the lives of children. It regularly conducts outreach activities like the training day led by Aga Khan teachers from the Diamond Jubilee High School Mumbai (DJHSM),
The day was all about Learning through Play and gave an opportunity for preschool teachers to try new practices in a fun and engaging, hands-on manner. Participants were shown the AKESI pioneered Shishu Pahel Padhati® (SPP) pedagogy of 'learning through play'. Classrooms were set up so that the teachers themselves could experience a child's daily routine and understand and explore the learning areas like the art room, science activities and a physical development class.
In the art room, participants explored mix medium collage and still life painting with emphasis on open-ended investigation and process rather than the finished product. The message was about the importance of giving children the opportunity to talk about their work and sharing it with the others to stimulate creative expression and language development.
In the Science room, participants explored multiple science themes through shared activities that promoted the use of senses to explore material. The resultant displays listed supporting vocabulary, creating links with literacy.
The Physical development class included activities that integrated motor skills with language and math.
"Loved the workshop! Amazing activities. Enjoyed and learnt new techniques at every section. Would love to attend the next one" said Ruchira, who attended the event.
Diamond Jubilee High School Mumbai regularly welcomes teacher trainees from colleges and institutions across Mumbai to complete an internship at the school. The interns observe teaching practices and conduct lessons while being guided and mentored by experienced teachers.
"We love to work together with the larger community and extend learning to fellow teachers beyond our school. The positive feedback we get is encouraging and inspires us to continue the culture of knowledge sharing"- said Ms Purvi Gogri. Manager – Early Childhood Development at AKESI.
Teacher training and professional development are an integral part of AKESI`s philosophy and practice.
Photo captions (top to bottom):

1.

Teachers attending the seminar on Inspired Learning: Planning for Purposeful Play conducted by Ms Purvi Gogri, Manager- Early Childhood Development at AKESI
2.

Teachers experiencing the power of Loose Parts in learning
3.

Teachers engrossed in the Planning for play activity
4.

Post workshop picture of the Inspired teachers