Students from rural Gujarat make friends from around the world
"Diversity is not a reason to put up walls, but rather to open windows. It is not a burden, it is a blessing" - His Highness the Aga Khan.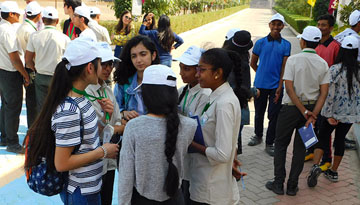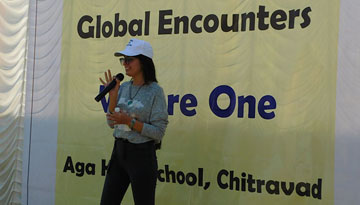 Yash Patel woke up early on January 1, 2020.
New Year's Eve is quiet in his village of less than a thousand households, tucked away in rural Gujarat among endless plantations of cotton, ground nut and wheat, and mango orchards about to sprout buds.
To start the year, Yash's New Years' experience involves 39 students from 13 countries, including Kyrgyzstan, Tajikistan, Portugal, Mozambique, the US and UAE, visiting his school at the Aga Khan School, Chitravad (AKSC) which stands at the edge of the village. The students were brought together from around the world to attend Global Encounters (GE) - an international programme focused on service, leadership development, culture, and global citizenship. They were welcomed by the school marching band, after which the AKSC students gave them a tour of the premises.
"The facilities are superb with an enormous range of classes," said Ayan Firoz Charania, from the Aga Khan Academy in Mombasa. "The nature around the school makes it very appealing and an amazing environment for students to be open-minded and study peacefully." The visitors were pleasantly surprised to find a large, well-equipped campus in such a remote village.
The hosts and the visiting students then broke into groups for different activities including writing poetry, playing music and doing arts and crafts. Afterwards the groups presented their work to everyone.
During their time together, Ayan and Yash discovered their common passion: football. They played together with students from Syria, Afghanistan and Canada. Once you've played football with someone, the conversation must continue off the field. The new friends spoke about their interests, what they do on weekends, their families, their societies, and their dreams and aspirations. The theme for the GE program was "One World," emphasizing the common humanity of the students despite their differences in lifestyle.
Where there were differences, there were opportunities to improve. "Their lifestyle is much more fast-paced," said Yash. "They are working with technology in different ways."
The program ended with a dance party where participants from all the different countries took turns to select the music. The expectation was that the GE students would be eager to play songs from their own cultures.
AKSC teacher and GE facilitator Kapil Chavda said the visitors were fascinated with Garba, a Gujarati folk dance tradition that they had encountered. "The GE students wanted to play Garba songs only. And they thoroughly enjoyed dancing."
"We had a lot of fun together, and I now have many friends from around the world," said Ayya Fayez Esmail who studies in Salamiah, Syria.
Even though it is small and remote, Chitravad itself is no stranger to diversity—the village has a masjid, temples to numerous deities, and an Ismaili Jamatkhana. But the students were full of curiosity to learn about their peers in different parts of the world. "I wish we had more time to interact," said Sujan Sanmani, a 10th grader at AKSC, who was happy to become connected with students at her level from so many countries. Even so, she plans to stay in touch with her new friends going forward.
Photo captions (top to bottom):
GE students arrive at the Aga Khan School, Chitravad (AKSC)
Students discuss the learning from each other during the group discussion time
GE participant shares her experience at AKSC