Opening the Way for Students to go to University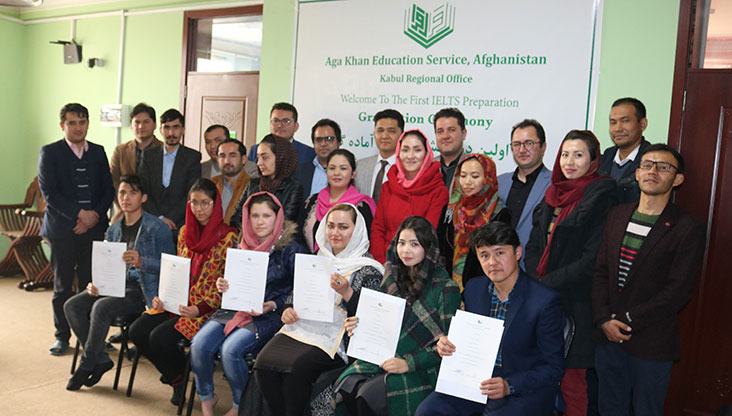 Celebrating the Successful Completion of the First IELTS Preparation Course
English is the language of opportunity in Afghanistan and proficiency in speaking, listening, reading and writing is a pre-requisite to attending many of the best Universities in Afghanistan as well as abroad.
Aga Khan Education Service, Afghanistan (AKES,A) decided to take action to help young people access tertiary study and a better future.
In April 2019, AKES,A piloted the International English Language Testing System (IELTS) Preparation Course in Kabul and Baghlan provinces. The refined course, now offered at a range of levels and phased over 16 months, is already realising its aims with several participants successfully completing their studies.
To make sure participants are on track, progress is measured in mock tests at the beginning, midpoint and end of each study block. A basic analysis of students' performance reveals that on the entry test scores averaged 4.5 which increased to 5.9 out of a possible 9.0 - an impressive improvement of 1.4 band scores. "The training of teachers by International House London; the adopting and adapting of course material; and the continuous assessment and feedback from the students and our own teachers are amongst the key factors in the course success", says Ms. Najia Naikbeen, the Regional English Program Officer in Kabul.
She adds, "There have also been some real course highlights, one of our students received such high marks in the English university entry test he was granted a scholarship to study his dream major at the American University of Afghanistan and another course participant is teaching English with AKES,A more confidently as a result of his upgraded English language proficiency".
All the graduates from the Preparation Course have qualified to register for the official IELTS academic test and if they gain an acceptable band score will likely gain admission to local or international universities with English as the medium of instruction. AKES,A is opening the door to future prosperity.