Paving the Way to a Brighter Future: The First Female IELTS Teacher at AKES Afghanistan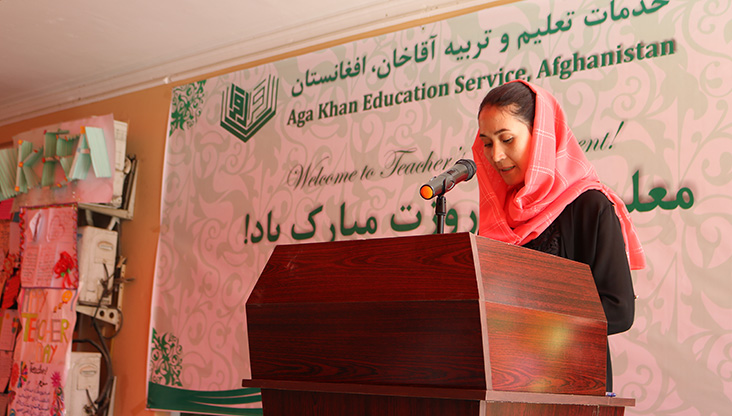 Referred to as the language of opportunities, English is one of the most widely spoken languages in the world.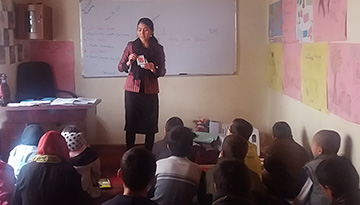 English proficiency is an invaluable skill that offers a multitude of opportunities when it comes to further education, enhanced career prospects or creating more meaningful connections in a geographically and culturally diverse world. Realising its potential, Dilruba Sakhizada embarked on her own learning journey with the Aga Khan Education Services (AKES) in Afghanistan in 2010, where she studied English and Information and Communications Technology (ICT). Coming full circle, Dilruba returned to AKES as a qualified IELTS (International English Language Testing System) teacher who is now equipping students with the knowledge and skills needed for a brighter future. Paving the way for other women, Dilruba is the first female IELTS teacher at AKES in Afghanistan. Reflecting on her desire to empower girls to progress in their education, Dilruba commented:
"As an Afghan girl, I understand the insecurities and the struggles girls face in education, I have been there myself. Therefore, breaking down insecurities, inequalities and societal beliefs about girls and education was enough to drive me into the field of teaching, so that I could help to educate the youth in our country."
After successfully completing her intermediate English course as a teenager at AKES, Dilruba applied and was accepted, into the Afghan Scholars' Initiative - an international scholarship for high school students. As the only student selected from Afghanistan, Dilruba began a new phase in her life, travelling to the USA to complete the last three years of high school in Bethlehem, a small picturesque town in New Hampshire.
In 2015, with a high school certificate from the USA, enhanced English language skills and a memorable international student experience, Dilruba returned to Afghanistan and immediately gravitated towards AKES again. Reunited with her community, Dilruba was offered a teaching job in a rural area of Kabul. Day by day her passion for the profession increased; discovering that she had developed a flair for teaching English as well as connecting with the youth. In pursuit of strengthening and upgrading her teaching knowledge and practice, Dilruba actively participated in various continuing professional development workshops and online courses with the support of AKES. In 2019, she took the Official Academic IELTS test and proved her English proficiency levels, whilst also successfully completing a four-month online course entitled Teaching IELTS by the International House, London. Her achievements culminated in her appointment as a teacher for the IELTS Preparation Course in 2020.
Through her hard work and commitment to the teaching profession, Dilruba has not only made a positive impact on hundreds of students but has also progressed her career as young woman in Afghanistan. She remarked:
"As a student and a lifelong learner, I have developed many skills…now I am implementing everything I learned and giving back. I am truly grateful to AKES for helping me to get this far in my career. I believe that by having more supportive female educators, we can empower more girls and women to feel comfortable in learning and growing."
Her zest for teaching English has created a ripple effect as many of her students are now moving on to study a higher level of English, preparing for their IELTS exams and applying for international scholarships or moving into employment – demonstrating the transformative potential of education.
Photo credit : Dilruba Sakhizada