Building capacity through outreach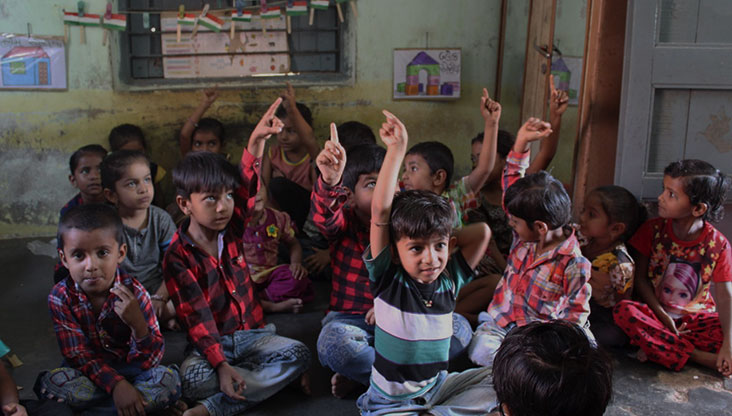 Aga Khan Education Service, India (AKES,I) has achieved national recognition as a quality institution for education and early childhood development (ECD). AKES,I was ranked eighth as India's Most Respected Education Brand, and fifth as India's Most Respected Early Childhood Education Brand by EducationWorld. During the last two years, AKES,I also received nine awards in ECD and has been recognised by the Association of Early Childhood Education and Development in India for its Exemplary Early Childhood Care and Education Practices.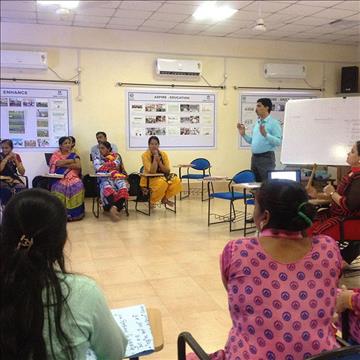 Investment in ECD has long been established as a critical factor in the long-term health and wellbeing of children, communities and broader society. This includes investments that positively impact children's health, nutrition and education, and in programmes and services that build the skills and capacity of caregivers and parents of young children. India's Integrated Child Development Services (ICDS), founded in 1975, is the world's largest ECD programme. It is implemented by state governments under the Ministry of Women and Child Development. Since its inception, the government has made considerable progress to improve the reach and quality of its ECD programmes, positively impacting millions of families.
AKDN has a long history of delivering ECD services and programmes in India. One example is in Gujarat where AKES,I operates 19 preschools reaching more than 1,000 children per year. AKES,I also has experience of engagement with government and private institutions in Gujarat, Maharashtra and Telangana to support ECD initiatives that reach communities to improve teaching capacity and learning outcomes for children attending government ECD centres.
The Anganwadi Quality Improvement Programme (AQIP) was a government-initiated partnership that involved AKES,I, Aga Khan Foundation (AKF), Aga Khan Rural Support Programme and Tata Trusts. The project supported programme improvement and development at Anganwadi Centres (government Early Childhood Care and Education Centres) in the Okhamandal block of the Devbhumi Dwarka district of Gujarat.
The role of AKES,I focused on technical support to improve teaching and learning outcomes by enhancing the learning environment, enriching the curriculum and building teaching capacity through mentoring and training. Building capacity also included engaging community members and establishing Anganwadi Management Committees. These committees are a long-term resource to manage and improve the quality of the centres and related programmes. As a three year project, AQIP has reached more than 1,000 children attending 45 Anganwadi Centres.
Through its ECD resource centres, AKES,I provided training for the Anganwadi Centre teachers and supervisors and ICDS staff. These resource centres were established to provide long-term support and outcome-focused ECD interventions. Geeta Bariya, a member of staff at an Anganwadi Centre in Okha, saw this as an "innovative intervention" as they "received training in maintaining mini libraries, training to deliver the Reading for Children programme to parents and support to deliver extracurricular activities". These initiatives enabled the active engagement of parents in their child's learning and development.
A third-party agency evaluation concluded that AKDN interventions significantly improved the quality of ECD services at selected centres in Dwarka, Gujarat. It was conveyed that these practices should be shared, extended and adapted for the benefit of more centres. Dr. Iqbal Sama, who headed the project from AKES,I and was foremost in conducting training sessions and interacting with staff said, "I am glad that we could run this programme that will impact students' learning at a very young age. Programmes like these not only improve teacher-child interaction, but also help increase learning outcomes significantly. The programme has not only given a better understanding of ECD to teachers, but parents as well".
Photos (top to bottom):
- Building imagination and encouraging the engagement of children through storytelling sessions (photo taken prior to COVID-19).
- Capacity building of teachers and supervisors of government Anganwadi Centres (photo taken prior to COVID-19).
- A small group activity to support children to develop their fine motor skills (photo taken prior to COVID-19).