AKES, India wins "School Chain of the Year" in IDA Education Awards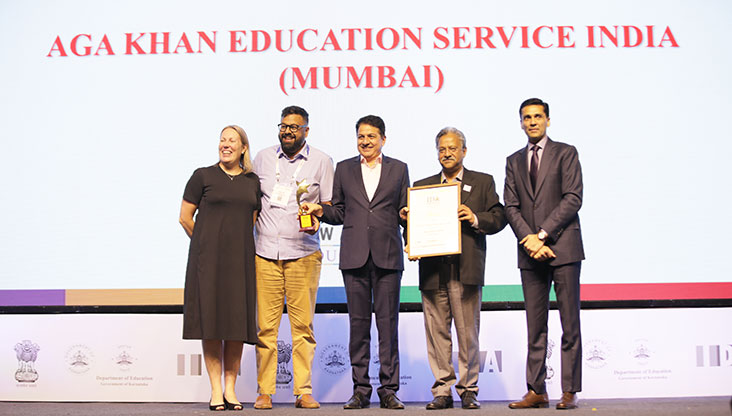 The Aga Khan Education Service (AKES), India won the "School Chain of the Year" award in the K-12 education category for the 2022 India Didactics Association (IDA) Education Awards.
According to IDA, the IDA Education Awards acknowledge educational institutions that transform teaching, learning and employability outcomes. They also recognise the contributions made by the educational institution for pursuing new opportunities, continuously innovating and exhibiting a high degree of accountability for quality education. The awards are broken down into three categories, Early Learning, K-12 Education and Higher Education, with IDA receiving more than 2,500 nominations across 25 states for this year's awards.
AKES, India's CEO Farhad Merchant was overjoyed with the institution receiving this award, especially since this award is given to only one school chain.
"Aga Khan Education Service, India has strived over the years to ensure the best quality education is provided to our students," Farhad said. "Getting recognition at the national level as the 'School Chain of the Year' by Asia's largest exhibition for education and skilling is like having a dream and seeing it become a reality. It would not have been possible without the relentless efforts of our teams across AKES, India."
In addition to winning this award, AKES, India was the finalist in the following categories:
Early Childhood Education Chain
Exemplary Initiatives Towards Faculty Development
Leading Individual School (Diamond Jubilee High School, Mumbai)
Members of AKES, India receiving the "School Chain of the Year" award (second to left to second to right: Dean of Admissions for the Aga Khan Academy Hyderabad Arjun Puri; AKES, India Gujarat Regional Head Dr Iqbal Sama; and AKES, India Chief Operating Officer Joydeep Kar)