STEAM Fair at the Aga Khan Mzizima Secondary School, Dar es Salaam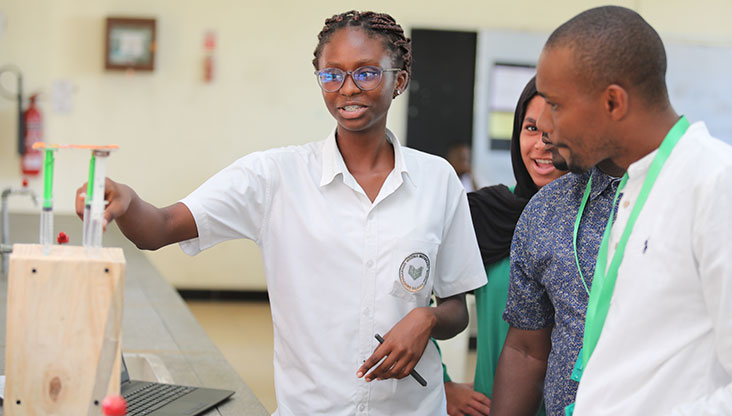 On 13 March, Grades 7-10 students from the Aga Khan Mzizima Secondary School (AKMSS), Dar es Salaam participated in a competitive Science, Technology, Engineering, Art and Mathematics (STEAM) Fair at the school under the theme, "Recycle to Survive."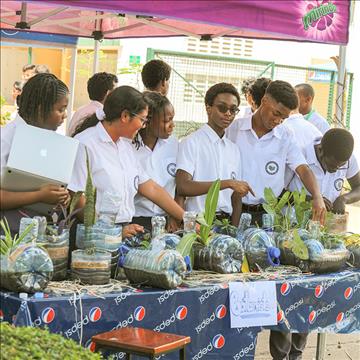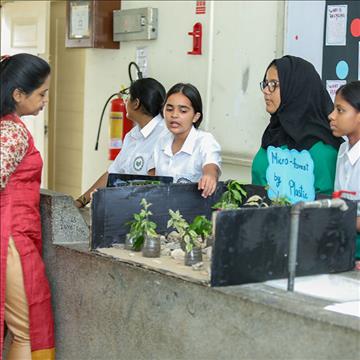 The event aimed to encourage students to develop innovative solutions to combat the increasing environmental pollution as a result of poor waste disposal management in the community. Renowned experts in the fields of science and technology were invited to the event to judge the students' projects and share some ideas with the young innovators.
Grade 7 students Daanya Rajwani and Aaliyah Saleh, who participated in the event and did a project together on sustainable water purification, said they enjoyed the event and its challenges.
"It was not easy coming up with our final idea to kick start the project," Aaliyah said. "However, after developing the idea, everything went smoothly despite a few obstacles. We were really nervous at the start, but we finally enjoyed presenting to the judges and parents. We cannot wait for the next STEAM Fair!"
Parents were also invited to the event, with some also helping with the planning of the fair. Mrs Zahra Rajwani, a parent of a Grade 7 student at the school, said she appreciated the school for organising this event.
"The students had really interesting projects to learn from," Mrs Rajwani said. "Many people today do not know or understand the importance of recycling and how it affects our economy. I have been really stunned by the fair. Great job to all the students and educators!"
This STEAM Fair is one of the many initiatives AKMSS, Dar es Salaam is incorporating into its academic programme. The school recognises that the skills required for success in the 21st century are not limited to traditional academic subjects but also encompass problem-solving, critical thinking, creativity and collaboration, all of which are necessary skills to succeed in a globally competitive world.
Student presenting to the judges at the STEAM Fair

Students displaying their project for the STEAM Fair

Student presenting to a parent at the STEAM Fair