Global Warming: A burning issue addressed by the Aga Khan School, Chitravad's awareness programme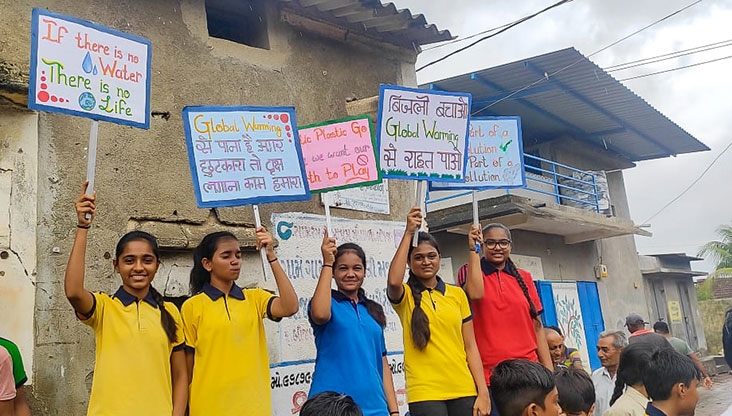 Global warming has become one of the most critical challenges our planet is currently facing. In an effort to address the alarming impact of global warming, the Aga Khan School (AKS), Chitravad in collaboration with the Aga Khan Agency for Habitat (AKAH) and the Aga Khan Youth and Sports Board for India, organised a comprehensive programme to raise awareness about this pressing issue.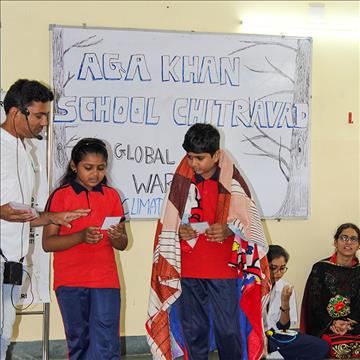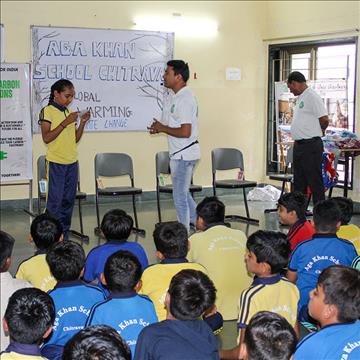 The highlight of the programme was a skit presented by AKS, Chitravad students. Demonstrating their creativity, they conveyed a compelling story that shed light on the harmful consequences of global warming on ecosystems, wildlife and human well-being.
In one of the scenes, the students demonstrated how rising temperatures and deforestation caused by human activities destroyed animals' habitats. In another scene, they depicted a coastal town grappling with recurrent and intensified storms caused by rising sea levels. The performance showcased the destruction of homes, loss of livelihood, and the emotional impact on the town's inhabitants, emphasising the need for individuals to take action in addressing climate change.
After the performance, an awareness rally was organised, stretching from Chitravad to several neighbouring villages. Students, teachers and members of the community enthusiastically marched, carrying banners and placards with slogans advocating for action to combat global warming like, "Be a Part of the Solution Not Pollution"; "Plastic, Plastic Go Away, We Want Our Earth to Play"; "If there is No Water, There is No Life"; "Global Warming se Paana Hai Agar Chhutkara, Toh Plants Lagana Kaam Hai Hamara" (Translation: "If you want to get rid of global warming, it is our duty to plant trees"); and "Bijli Bachao, Global Warming Se Rahat Pao" (Translation: "Save electricity, get relief from global warming"). Overall, the rally symbolised unity and a call to action, urging everyone to join the movement for a sustainable future.
"Learning about global warming here is like connecting the dots between science and real life," said Grade 11 student Riya Padaniya who took part in the rally. "We're not memorising facts; we're understanding how to make a difference for our planet."
During the event, all participants took a pledge to reduce carbon emissions by prioritising the use of alternative methods. This included a commitment to replace carbon-emitting devices with eco-friendly alternatives, like solar-powered technologies and energy-efficient appliances.
The Aga Khan Education Service, India and AKS, Chitravad are known for their commitment to environmental stewardship and strong belief in protecting the Earth from the threats posed by global warming. This can be seen by AKS, Chitravad receiving the "Swachh Vidyalaya Puraskar" at the national level by the Ministry of Education, India for its best practices in water, sanitation and hygiene. Additionally, the school received a "Special Merit Award" by Education World in the category for Ecology and Environment Awareness and for Social Impact.
The programme concluded with a renewed sense of purpose and determination among the participants. AKS, Chitravad and its partner organisations reaffirmed their commitment to establish an eco-hub in the region. This initiative aims to integrate environmental studies into the curriculum, conduct future awareness programmes, establish a new school garden and implement green infrastructure to promote environmental sustainability.
Students at the awareness rally

Students performing a skit

Student taking part in a skit