Environmental leaders at the Diamond Jubilee High School for Girls, Mumbai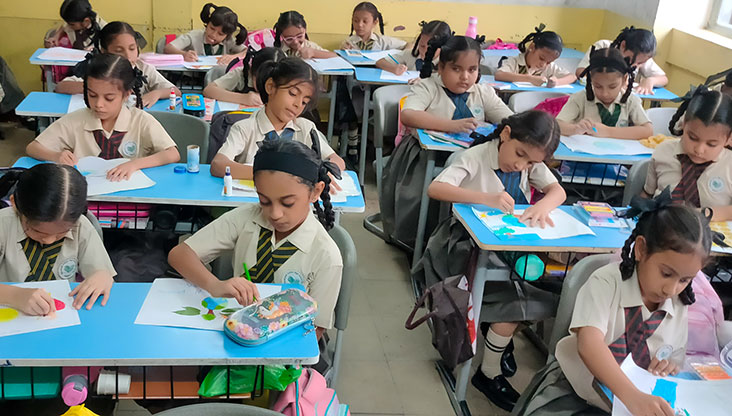 Although we cannot undo the many harms that have been imposed upon the environment, there are numerous positive actions we can take, such as planting trees, adopting sustainable diets and cleaning up rivers and coasts to save our environment.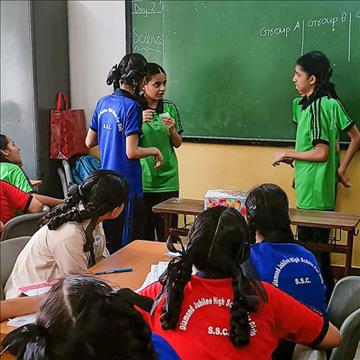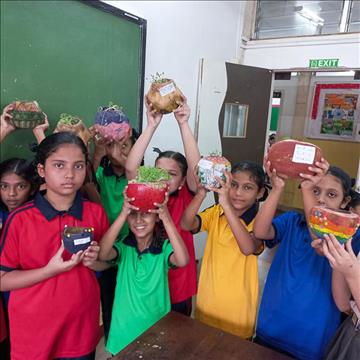 Every year, World Environment Day is celebrated on 5 June 2023 in more than 100 countries, with this year's theme focusing on finding solutions for plastic pollution. Protecting and nurturing the environment is one of the central goals for the Aga Khan Schools and the Aga Khan Development Network (AKDN). To mark this occasion, the Diamond Jubilee High School for Girls (DJHSG), Mumbai raised awareness among its students about the urgent need to restore and rehabilitate our ailing planet.
Students from different grades at the school actively participated in various activities aimed at promoting environmental awareness, such as in Grade 1, where they created 'trees' using fallen leaves. In Grade 2, the students made lamps from paper cups, while students of Grades 3 and 4 made beautiful earth-themed wall hangings and wrote slogans on environmental conservation.
"I learnt about the importance of saving trees and to plant more and more trees and take proper care of them," said Grade 1 student Mairah Motiwala.
Grade 2 student Mansuri Farha shared her excitement of creating lamps from materials found at home.
"I was excited about the Environment Day activity," she said. "I brought some used ice cream paper cups and decorative materials from home, and I enjoyed making a lamp with them."
Further reinforcing the importance of environmental responsibility, the school initiated a 'Each one, plant one' campaign, emphasising the principles of reduce, reuse and recycle. For this, Grades 5 and 6 students took part in this initiative by growing herbs in empty coconut shells and decorating them.
Grades 7 and 8 students enjoyed exciting games, such as environmental dumb charades and word search puzzles, along with engaging activities on extinct animals, all of which helped them grasp the significance of environmental preservation. Students of Grades 9 and 10 expressed their commitment to sustainable practises by using recycled paper to decorate school display boards with slogans, quotes, bookmarks and greeting cards.
"The activity of recycled paper was fun-filled and exciting," said Sidra Fatima from Grade 10.
The entire school community, including students and faculty members, united with great enthusiasm during these activities, demonstrating a collective effort to raise awareness and safeguard the environment for a better future. Although the main goal of the event was to teach students how to reuse everyday items for fun crafts and home decor, they also learnt the importance of biodiversity, protecting the Earth and fighting pollution.
The Diamond Jubilee High School for Girls, Mumbai is committed to hosting more events such as this, with the goal of instilling a transformative change in students' attitudes and behaviours towards the environment.
Students creating posters

Students playing environmental dumb charades

Students showing their decorated coconut shells