"Tigers deserve to survive, let's keep them alive," says the Diamond Jubilee High School for Girls, Mumbai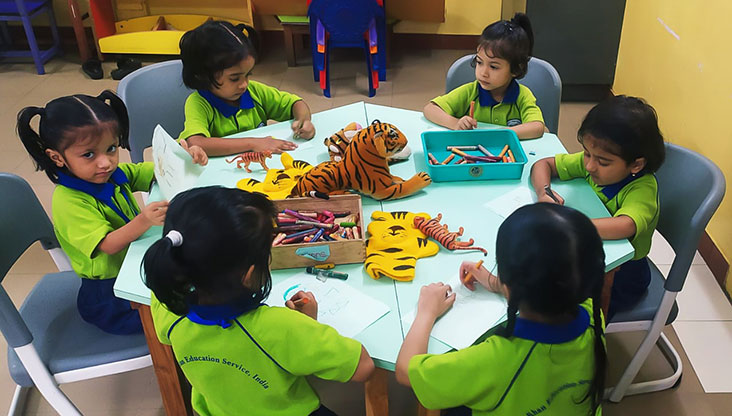 Students at the Diamond Jubilee High School for Girls (DJHSG), Mumbai celebrated International Tiger Day on 29 July 2023 with fervour, demonstrating their commitment to tiger conservation and environmental awareness. This day served as a reminder of the vital role these majestic creatures play in our ecosystem.
The students showcased their creativity by engaging in a series of wildlife conservation activities. They crafted intricate trees and 3D models, dressed up as tigers and encouraged their parents to join in by wearing orange t-shirts with black stripes. They also wore masks representing various animals to raise awareness about the urgent need to protect wildlife, especially endangered species.
The students recited heartfelt poems and sang soul-stirring songs dedicated to tigers, emphasising the importance of preserving these exalted creatures. The highlight of the event was a mesmerising skit performed against a jungle backdrop. It showed the critical role of tigers in maintaining the balance of our ecosystem and shed light on the threats they face, like poaching and habitat destruction. This was followed by a quiz, providing intriguing facts and instilling a sense of responsibility among all participants to protect the environment and its inhabitants.
Kehkashan Suhail Sayed, a Grade 4 student, expressed that the programme was incredibly interesting, especially the skit. She felt saddened by the fact that the tiger population has reduced due to actions taken by humans, which has taught her the importance of wildlife conservation.
Mariyah Shaikh, a student from Grade 10, also shared her enjoyment of the programme.
"I thoroughly enjoyed the programme and learnt that it is our topmost duty to protect our national animals before it's too late," she said. "Conserving the glory and pride of our nation is of utmost importance."
The day concluded with a sense of learning as the students left the event with a newfound appreciation for nature and a strong commitment to safeguarding these magnificent creatures and their habitats.