Aga Khan Student, Bonita Murungi, shares the Power of Writing at TEDx Nakasero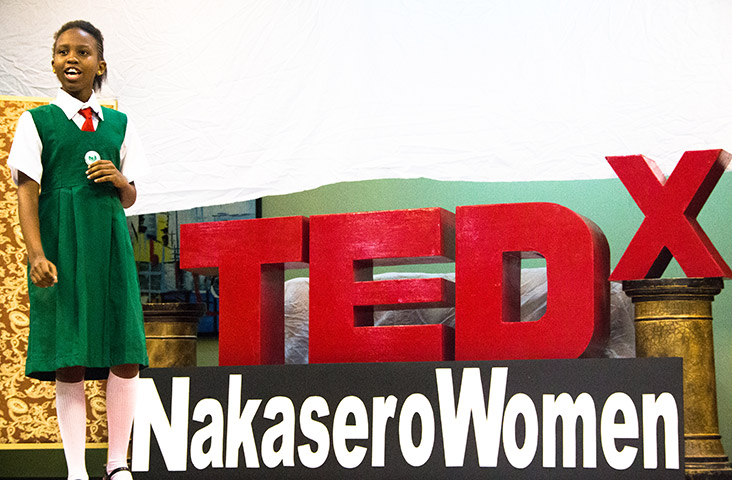 Last week, Bonita Treasure Murungi spoke at the influential TED Talks in Nakasero, Kampala.
October 27th, 2016 - Kampala, Uganda - Last week, Bonita Treasure Murungi spoke at the influential TED Talks in Nakasero, Kampala. At 11 years of age, Bonita has written two books, Friends (2014) and The Brave Prince Michael (2015), published by Palm Publications in Kampala. Both books are fiction and have been approved by the National Curriculum Development Centre as reading material for upper primary in Uganda.
The Primary 6 student from Aga Khan Primary School in Kampala started writing at the age of four. The young author said: "I started writing at Aga Khan School in nursery class. Our teachers would give us project work to do, and this is where it began." Bonita says because of her love for writing, she aspires to start a writers club in her school to help other pupils write their own books. To close off her talk, Bonita shares inspiration given to her by Mr. Kennedy, an Aga Khan teacher, who said: "The sky is the limit, and let it be the stepping stone to your dreams."
Over the years, Bonita has been an inspiration to other young people as guest speaker at several literary events. In June 2015, Bonita was invited to speak to at the Ambrosoli International School Uganda and gave a talk on the need for young people to explore their talents. She was also invited to speak on the World Book and Copyright Day at Green Hills Academy in Kigali, Rwanda. On this platform, Bonita's first book 'Friends' won the 2015 Fiction Writer's Award in recognition of her exceptional ability in writing. Most recently, Bonita has been selected to speak at the Climate Change Conference in Marrakesh, Morocco in November 2016.
The Aga Khan Primary School in Kampala was established in 1995 and serves 850 students. It offers an integrated whole-child curriculum and small class sizes to ensure provision of individual support to the students in order that they reach their full potential. The Uganda National Primary Schools curriculum is offered from Primary 1 to Primary 7.
Students at the Primary school engage in several co-curricular activities such as Scouting, Tennis, Swimming, Tae Kwon Do, Ballet, Chess, Tailoring, Music, Dance and Drama among others.