The Importance of Reading for Children
The Aga Khan Education Services, Afghanistan's innovative ECD programme has proven to be extremely successful in helping children learn how to read.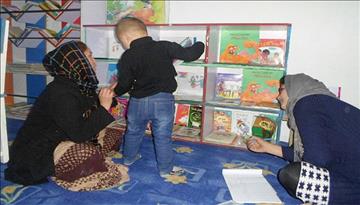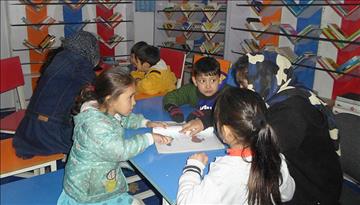 AKES' ECD programme in Afghanistan had incorporated reading activities for children up to six years of age. In these activities, teachers would select stories to be read in both English and Dari languages.
As a result of these activities, the children's interest in reading books increased dramatically. However, this was only possible within the ECD classes as children did not have access to books at home. To address this critical need, AKES decided to develop this programme further so that children could gain increased access to education.
To achieve this goal, AKES India invited 5 AKES Afghanistan ECD officers for training. During this trip, the officers gained exposure to the ECD centers in India and learned the scientifically effective Reading for Children (RfC) approach, which had been implemented in ECD centers in Gujarat. Through RfC, the skills and knowledge of the ECD teachers were enhanced in storytelling, as well as in developing story books for children through the use of illustrations. Additionally, these teachers supported parents and shared key techniques on storytelling for children.
Today, AKES Afghanistan has applied this learning within their ECD programme.
The RfC approach aided AKES to implement the following: using local resources in developing books, that make books interesting and culturally relevant for children and parents, developing tools to monitor the usage of books, ensuring the children's choice is priority in selecting books, and setting up a mini library for parents and children.
A pilot revised programme was launched at 5 ECD centers in the country for one year and in Parental Education Classes in the ECD programme, so that parents could learn how to help their children read better from home.
At the end of the year, AKES carried out a research assessment on the programme. The results concluded that RfC exponentially improved the participating children's' linguistic, emotional, social and recognition skills, cultivating interest and curiosity in reading, increased parental involvement and communication and an enhanced vocabulary. Overall, the programme has developed a positive social atmosphere between children and helped gauge the children's abilities, talents, learning methods, and interests.
From this pilot, AKES launched and implemented the RfC approach across 71 ECD centers in the country. In all the centers, there are an outstanding amount of 6000 storybooks available, with over 1650 mothers registered as RfC members.
As a result, RfC has increased the interest in the ECD programme among children and mothers. Through this innovative programme, AKES was able to transfer part of ECD activities into homes and cultivate a reading culture in the community from a young age, making this one of AKES, Afghanistan's most successful programmes.