World Read Aloud Day: A solitary activity, enjoyed with friends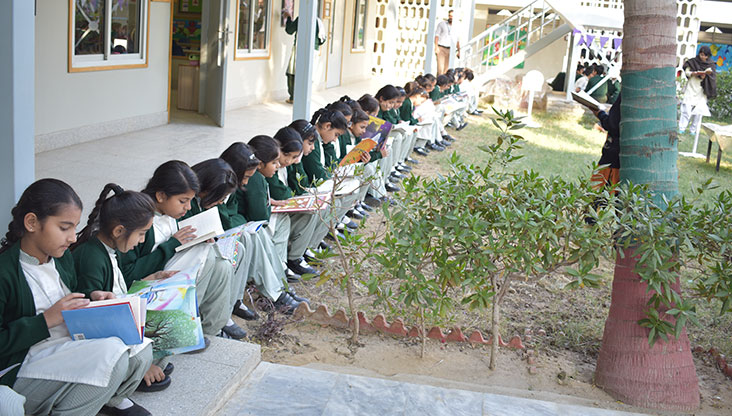 Shifa Imran of Aga Khan School, Garden had always been fond of reading in seclusion, that is, she says, till the World Read Aloud Day was celebrated at their school on February 5.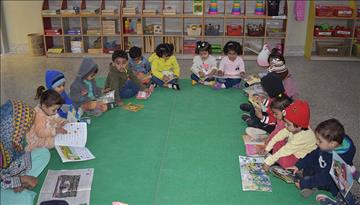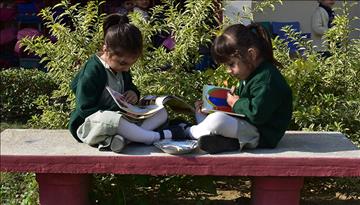 The grade 8 student said that "for the first time it felt like I was not the only one lost in the world of words; my friends were lost with me."
From pre-primary all the way to secondary classes, hundreds of students across the Aga Khan Education Service, Pakistan celebrated the World Read Aloud Day by taking part in their favourite activity – reading.
To mark the day and reinforce the importance of reading, schools designed different activities for their students to take part in. These included teachers reading stories out loud for younger students, to older students reading to and with their peers and then discussing the plots and the characters. Other activities included acting out scenes from different books, and using puppets to narrate stories. The secondary and higher secondary students were encouraged to get in touch with their favorite living authors. Students wrote to Pakistan-based writers to visit their schools, and are looking forward to hosting them soon.
While most of the activities were classroom-based, some schools decided to involve parents and the greater community. The Aga Khan School, Kharadhar in Karachi invited parents to visit their children's classrooms with their favorite books, and engage in storytelling and discussion. This helped students see reading as a source of joy across age groups, rather than something that is only required for school. Similarly, Sultan Mahomed Shah Aga Khan School asked teachers to bring their favorite books to class, and read excerpts to show their students what they love about the book. And at the Aga Khan School, Mirpur Sakro, students gathered in the assembly ground and had a reading competition, with prizes given out for the most engaging delivery.
But perhaps the most ambitious attempt to Read Aloud was undertaken by Aga Khan School, Hafizabad. The school arranged a book collection drive after which students of grade 4 visited their peers in a neighbouring school, taking along books, pamphlets and other reading materials they had collected. There they read aloud and made new friends over animated discussions about stories. Meanwhile, students of grade VI went to a local hospital and read to the people waiting outside.
"The response was very encouraging," says the head teacher of AKS Hafizabad, Rubina Pervaiz. "Appreciating the efforts of our students, many people sadly acknowledged that we are moving away from reading, that it's becoming limited to reading messages on our phones."
The Aga Khan Education Service, Pakistan (AKES,P) is amongst the largest private networks of education institutions in Pakistan. Reaching out to some of the most remote areas of Pakistan, AKES,P operates 156 schools and 5 hostels in Gilgit-Baltistan, Chitral, Punjab and Sindh with an enrolment of over 45,000 students.
Photo captions (top to bottom):
Aga Khan School, Garden enjoying books in the open air
Pre-primary students at Aga Khan School, Garden enjoy reading time with their teacher
Pre-primary students at Sultan Mahomed Shah Aga Khan Schools reading together