Interview with Jamie Mirembe Catalina Namayanja: Winner of international blog post competition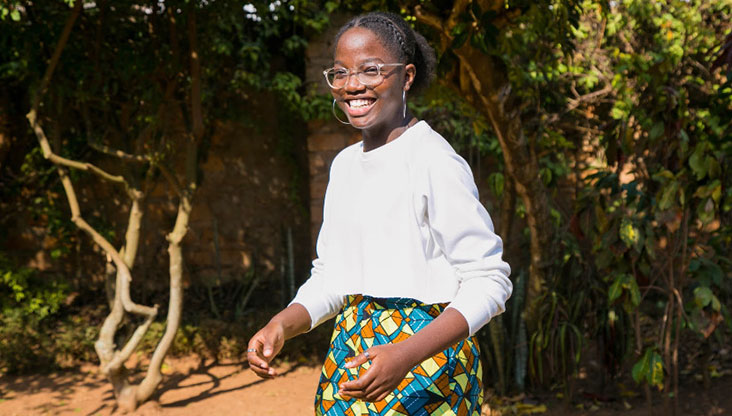 Jamie Mirembe Catalina Namayanja, a Class of 2022 alumna from the Aga Khan High School (AKHS), Kampala, has been crowned a winner of the 2022 World Bank and Financial Times' fourth annual blog writing competition.
Judged by a panel of senior officials from both institutions, the international competition asked high schoolers aged 16 through 19 to submit a 500-word post in response to the following: "What insights from your experience during the COVID-19 pandemic do you think would improve learning? What should educators and policymakers do differently?"
Jamie, 17, is an International General Certificate of Secondary Education (IGCSE) graduate from AKHS, Kampala. Her blog post, along with two winning entries penned by students in Brazil and Zimbabwe, was selected from more than 500 entries submitted by students in 104 countries. Her thought-provoking post, Care for Siima, transports readers to a Ugandan village where a young student faces real-world challenges to distance learning that have been exacerbated by the pandemic. Jamie's post concludes with a heartfelt message for Ugandan leaders – and leaders around the world – to prioritise quality education in underprivileged areas and create a better world for future generations.
Your winning post outlines challenges to distance learning during the pandemic. How has your own educational experience been impacted over the past two years?
As a social human being, one of the things I loved most about school was spending time with my friends and working on assignments together during free periods. As a result, online school was incredibly draining. It became difficult for me to get the motivation to exert myself academically. That being said, studying from home taught me the importance of discipline as I had to police myself to pay attention in class and hand in my assignments on time. [Discipline is a] skill that I will undoubtedly require in university and throughout my life.
In which ways did AKHS, Kampala support you and your fellow classmates while distance learning?
Our teachers struggled to adjust to distance learning, just like we did. But as time went on, they realised that not only did group projects and activities make our assignments easier to do, but they also allowed us to interact with one another and become closer to the new students in our cohort regardless of the physical distance between us. In order to make our online lessons more compelling and interactive, some teachers encouraged us to engage in debates and discussions as opposed to just reading the material. I found that this style of teaching allowed me to maintain focus during virtual classes and retain what I learned as a result of the memorable conversations that our teachers facilitated. In addition, the school set up weekly evaluations with our form tutor during which we expressed our feedback and proposed reforms to better our learning experience.
With the help of institutions like the Aga Khan Schools and the Aga Khan Development Network, there is now access to education in many underprivileged areas across Africa and Asia. What impact do you think this has had on youth who are now able to attend school?
I imagine the students who have now been given access to the quality education that Aga Khan [institutions] have to offer are thoroughly grateful to have been equipped with the skills to achieve their dreams.
Storytelling can be a powerful tool in connecting youth around the world. Has writing always been a passion of yours? In what ways has AKHS, Kampala helped you hone your craft?
When I was little, my father told my sisters and me bedtime stories. He would [usually] tell us [about] the three little pigs, and every time he did, he would give it his own little creative spin. One night he would give the little pigs goofy accents, and the next night he would prowl around our bedroom as the big bad wolf. [Once our] shrieks and giggles had subsided, he would tuck us in and send us off to sleep with a moral to live our lives by. I [have] always loved stories. There's something truly magical about being transported to another world and learning [about] different cultures and experiences that you would otherwise never have even dreamed of! My first encounter with legitimate storytelling did not manifest itself until I took to writing short narratives and descriptive compositions in preparation for my IGCSE examinations under the instruction of my English teacher. His constructive criticism taught me about the majesty and grandeur of weaving words together to present an intricate masterpiece that invites readers into a world of your own design. Storytelling is an impactful form of artistry [that] I look forward to utilising throughout my [future] career as an actress – a dream that my teachers, friends and family have always supported.
What advice would you give to students who dream of winning this competition in the future?
My advice to the students who hope to win this competition in years to come is to be creative. My English teacher taught me to show rather than tell. No matter what you're writing about, find a way to reel your reader in by painting a vivid picture in their minds [Along with submitting your composition], this competition allows you to upload supplementary materials, so snap a picture. Paint a landscape. Record a vlog. Do something that will make your submission stand out!