World Read Aloud Day 2020 : Every book you've ever read is just a combination of 26 letters!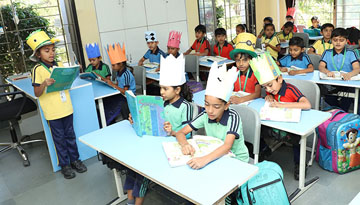 Reading aloud, even for adults, is a fun, easy way to connect people, while at the same time improving listening skills and vocabulary.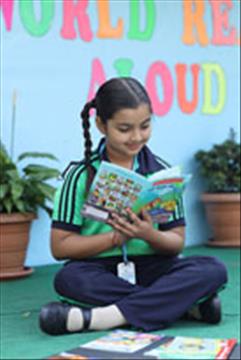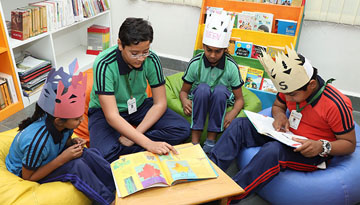 For students, understanding common story themes and structures are an important factor for their future success. On the occasion of "World Read Aloud Day" on February 5, over 10,000 students, staff, some parents and even grandparents of Aga Khan Education Service, India (AKESI) engaged in various reading aloud activities.

The objective was to make this day meaningful and engaging, and have everyone participate in the joy of reading out loud.
The Drop Everything And Read (DEAR) initiative was run with a slight twist - students didn't sit in silence, but instead read their books aloud! Language was not to be a barrier, so the 'read-aloud' was extended to regional languages in addition to English. This ensured that everyone was included. Preschools and junior classrooms were decorated for occasion, adding to the anticipation and excitement. Some students performed skits and mini-dramas to spread awareness on the importance of reading.
Parents, and even grandparents, reading out to young pre-schoolers, brought a sense of togetherness, especially for the children. "I enjoyed the activities that were conducted at the school today, I am happy that the school has involved us in this reading activity which helped us understand the importance of reading", gushed a happy grandparent.
"Reading without reflecting is like eating without digesting." – Edmund Burke
Senior students and teachers read to junior students, exposing the young ones to the joy of reading. Senior students also read articles on diverse subjects. Many following up their reading with discussions and debates on interesting topics, such as ethics and values, which demanded deep and critical thinking.
Support and housekeeping staff were involved too, reading aloud in their local languages. Staff in the administrative offices took up the theme of "creativity", reading and discussing passages with each other on this, sometimes overlooked, subject.
At its heart, the event was about learning, so teachers paused between the readings to ask questions that piqued children's curiosity and encouraged them to reflect and think more deeply about what they were reading and hearing.
The World Read Aloud Day at AKESI was a fun, entertaining, engaging and great learning session for everyone.
The Aga Khan Education Service, India (AKES,I) operates 8 schools, 1 hostel and 19 Pre-Schools, in the states of Gujarat, Maharashtra and Telangana, catering to approximately 9,000 students, from Nursery to Grade 12 across urban and rural regions.
Photo captions (top to bottom):
Students reading aloud in class
Outdoor reading activity
Student reading to another