Young Students "learning from home"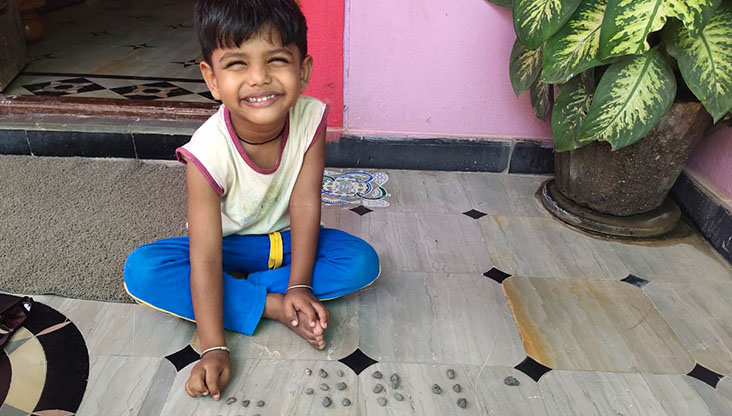 How do nursery school classes happen at home?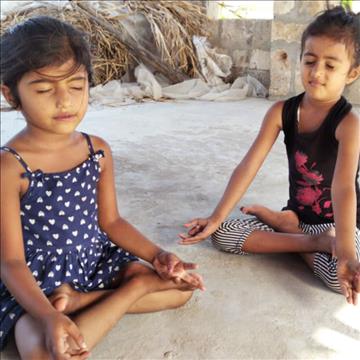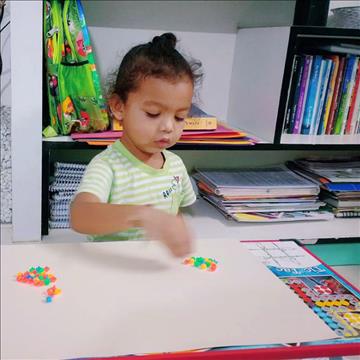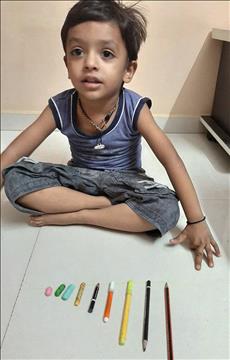 Aga Khan Education Service, India (AKES,I)'s newest learning initiative, the "Learning from Home" model, has received positive feedback from roughly 700 pre-school students and their parents who are navigating at-home learning during the COVID-19 pandemic.
Following the temporary closures of all 19 Aga Khan Preschools (AKP) in India on March 19th, 2020, AKES,I teachers had no choice but to start teaching from home. Because the Early Childhood Development (ECD) teachers and most of the parents have access to smartphones, AKES,I was able to quickly begin its remote learning initiative by using WhatsApp to communicate with young students and their parents.
During the first month of the initiative, AKES,I held a parents' workshop on Zoom to provide tips on supporting learning during the pandemic. More than 350 parents shared feedback about their children's experiences thus far.
Mr. Jaykishan Dani, whose son is enrolled at the AKP in Botad, said, "When I came to know about the closure of our schools, I was worried about my child's education. There were many questions in my mind, like how to engage him at home… But within five days, the AKP started sharing activities with us, which were very simple and easy to conduct at home by using household resources."
Ms. Dipti Jani, a Head Teacher at the AKP in Keshod, said, "I was very happy when I came to know that AKES,I had decided to start distance learning for all the AKP students. Initially, I was not so well-equipped with the technology…but with the constant guidance of AKES,I and online training, we started this task very easily."
Soon after schools closed, the AKES,I Early Childhood core team began preparing daily and weekly lesson plans taking into consideration the parents' technical know-how and limited resources available. They planned fun and creative activities at the same time being clear about what they wanted these young children to learn.
WhatsApp has quickly become the pre-school teachers' main method of communicating with parents. Through this simple platform, teachers are able to share daily activities and worksheets while providing support to the parents. Parents then guide their children through the activities and send photos of the completed worksheets to the teachers.
"Whenever I am stuck, I call a teacher and she guides me," explained Ms. Aarti Goswami, whose daughter attends the AKP in Ranavav. "I realized that I have hidden skills to conduct such activities for my child - I was very happy to discover that!"
The students' daily lesson plan includes pre-math, language, pre-reading and pre-writing, science, fine and large motor skills development, and life skills. Each lesson sent to parents includes website links to related rhymes, stories, audiobooks and photographs. The core team also shares extra age-appropriate activities that can be undertaken at home by the children under the guidance of their parents.
After receiving progress reports from teachers, the five-member early childhood team host a daily Zoom call to update each other on progress and challenges, and to plan for future lessons.
Shashank Sood, an AKP Coordinator, explained, "We have received very positive feedback from the teachers and parents, which is very motivating. This will be a memorable experience for a lifetime."
Dr. Iqbal Sama, Regional Head – Gujarat, believes that, "While COVID-19 has been an unfortunate time, it has opened up doors of creativity in the education sector. The positive feedback we receive from parents is heart-warming…and I feel in this process the parents also get a chance to engage more with their kids. This crisis has given us an opportunity to learn and create something for our children - alone we can do so little, but together we can do so much!"