Frequent Questions
What are the timings for the Centre?
Depending on the age of your child there are several options:
Children in the 1-2 year old and 2-3 year old classrooms attend the morning session from 8:00a.m.-12:00p.m. Parents have the option to extend the session into the afternoon programme until 3:00 p.m. or 5:00 p.m.
Children in the 3-4 year old (FS1) classroom attend the morning session from 8:00a.m.-1:00p.m. Parents have the option to extend the session into the Afternoon Programme until 3:00 p.m. or 5:00 p.m.
Parents also have the option of choosing 3, 4 or 5 days per week for attendance. We also have an early morning drop off option of 7:00 a.m.-8:00 a.m.
---
Do you provide food? What about heating food?
We provide breakfast, morning snack and afternoon snack (included in the snack fee) and cooking activities.
We provide cereals, milk and cheese, fruit and vegetables, yogurt and breads that are purchased fresh daily.
Children that attend the Afternoon Programme bring their own healthy lunch from home. We do not have the facilities to heat up food so advise parents to pack a healthy lunch and store it in our fridge. We follow a healthy food policy and are nut free.
Please also note that if your child has a birthday at school, we ask that no cakes or party favours are brought in. We welcome a healthy alternative or a book donated to the Library in the child's name.
---
Does my child have to be toilet trained to attend the Nursery?
No. We understand that children are toilet trained on their own timetable and assist parents with this process when the child shows toilet readiness. We ask all parents to begin the process at home and then our trained staff work alongside you to assist with continuing the training in the Centre. Please send along a change of clothes daily and any pull-ups needed during the training.
All FS1 children are expected to be fully potty-trained as they start their academic year at AKELC. Our staff will work with parents and their children to prepare them for Big School as all children are required to be fully potty-trained and use the toilet independently.
---
What does my child need to bring to the Nursery each day?
Daily, your child will need to bring a labeled water bottle, change of clothes and diapers/wipes (if not toilet trained).
If your child is staying for the afternoon programme, then please provide a healthy lunch each day and their bedding (pillow, blanket, sheet) if they require a nap.
---
What Curriculum does the Nursery follow?
We follow the holistic British curriculum called Early Years Foundation Stage (EYFS). The staff plan for activities in all 7 areas of learning each day.
The lesson plans and class newsletters are sent out by email each week to parents so you can review the objectives, stories, songs, activities, topics, events, etc.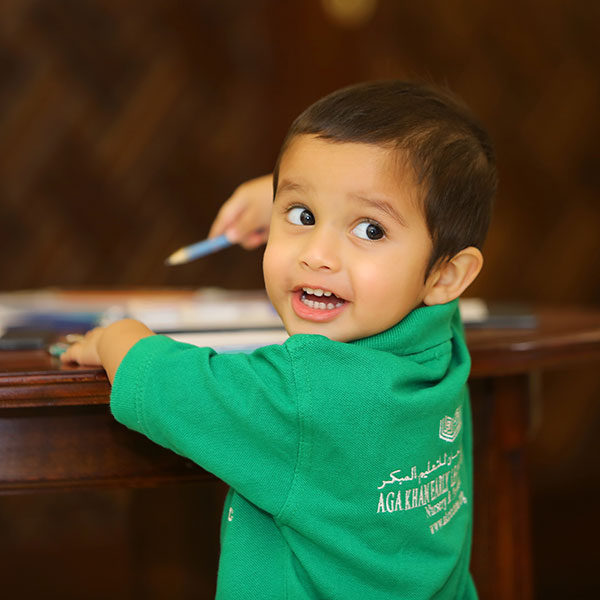 What languages are taught at the Nursery?
AKELC has an English/Arabic bilingual program. We also have a variety of staff who speak other languages to assist with settling in your child in their home language.
---
My child has never been to Nursery and I am worried he won't adapt.
We know that Nursery is the start of your child's school life and entering a new Centre can be an emotional experience for both you and your child. We work to make the separation process comfortable by individualizing the settling-in process to make the transition as smooth as possible. We have a wonderful team of Early Childhood Educators that are trained and prepared to support the transition of all children.
---
Does my child need to wear a uniform?
We have a uniform t-shirt that we encourage children to wear daily. Children are welcome to pair the t-shirt with whatever shorts or skirts they are comfortable with.
---
How will I know about my child's process?
We will talk with you informally each day at pick up and drop off times, meet with you for parent teacher meetings, provide you with a formal progress report and update you regarding the Ages and Stages Developmental Screening that occurs twice yearly.
---
Can my child attend AKELC if they are sick?
In order to protect the overall health of all families and staff, we require children that have a fever, vomiting, diarrhea or unexplained rash to stay home until they are symptom free for 24 hours. Our nurse and doctor are available if any concerns arise.
---
Do you support children with special needs? Do you have any therapists?
AKELC respects the needs of all children, of all abilities. Teachers are trained to support the developmental and learning needs of children who have a range of interests and abilities. We partner with parents and specialists to support individual progress and welcome therapists to the Centre.