Aga Khan Academy, Nairobi - Junior School attends Climate Action Zone launch event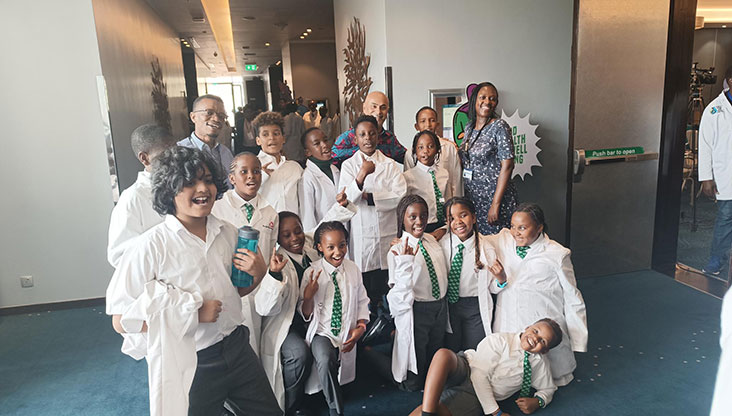 On 5 September, students and teachers from the Aga Khan Academy (AKA), Nairobi - Junior School participated in Climate Action Zone (CAZ) held in Nairobi, Kenya. The event, organised by the Alliance for Science in line with the Africa Climate Summit, highlighted various locally driven climate initiatives, inspiring young minds to take meaningful action against climate change. CAZ is intended to be inclusive and youth-focused, allowing for open and candid discussions on topics that may need to be prioritised on the main summit agenda. It was a fantastic opportunity for the students to gain knowledge, hands-on experience and inspiration to become climate champions.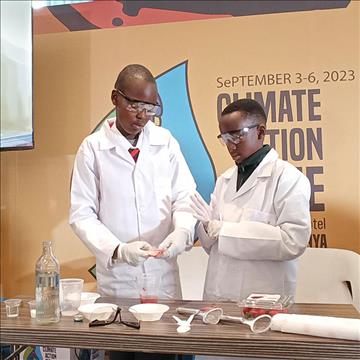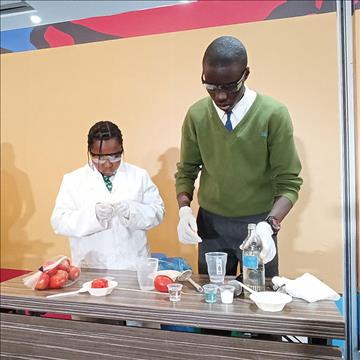 The students who attended the event are members of the World Leaders club at AKA, Nairobi, a schoolteacher-led extracurricular activity for students in Grades 1-5. Students are encouraged to improve their public speaking, debating and leadership skills. The club also assists students in becoming more informed about current events.
"I had so much fun at the Climate Action Zone during the African Climate Summit,'' said Abigail Adongo, a Grade 5 student. "It was amazing to see all the cool projects that can help the environment. I learnt a lot about how we can make a difference! It was an interesting experience."
The students engaged with the facilitators at CAZ during the presentations, asking them questions throughout. Some of the presentations included participating in hands-on experiments through exciting trials in DNA extraction. Another presentation included a captivating cloud show using liquid nitrogen and finally, our students collaborated with other professionals on various scientific experiments dealing with climate change.
 "Seeing our students engage with climate science and sustainability initiatives at the Climate Action Zone was truly inspiring,'' said Perez Amalemba, STEAM Coordinator. "They came back to school not only with a deeper understanding of the environmental challenges we face but also with a newfound passion for making a difference."
A group photo after the event

A student, Jacob, breaking up a fruit to extract its DNA

Another student, Zahra, with her DNA samples