Dar-Open Debate Champs: "Opportunities don't happen. You create them."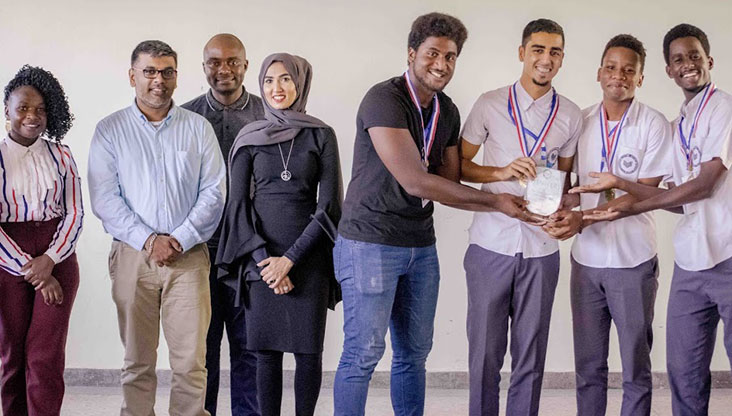 Walt Disney, one of the pioneers of the American animation industry once said 'If you can dream it, you can do it'.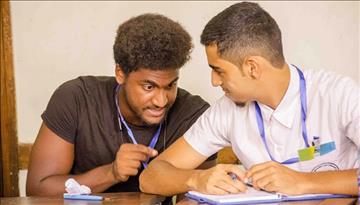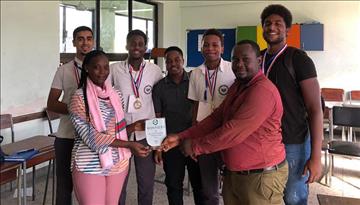 This quote has typified the journey from disappointment to success of the debating teams from Aga Khan Mzizima, Dar-es Salaam in Tanzania.
Erick Maximillian, the school's English Facilitator and Debate Patron, remembers the students participating in the Mwalimu Nyerere Invitational Debate Competition and African-Open Debate Competition in 2018 and, to the disappointment of students and teachers alike, achieving none of the coveted prizes but nevertheless, learning much.
Mr. Dominic Mwakifulefule, Tanzania Competitive Rhetoric Organisation (TCRO) Executive Director and Mzizima debate team trainer, gave his advice 'Be still when you have nothing to say; when genuine passion moves you, say what you've got to say, and say it hot' - D.H. Lawrence. To compete successfully against clubs from Kenya, Uganda, South Africa, Zimbabwe and Botswana the Mzizima debaters needed build on what they had learnt and take action.
So, students honed their skills by attending local training and demo-debate activities during Friday club days, and participating in inter-house debates and additional international and local competitions. The result, two champion teams were formed: the senior team comprised of International Baccalaureate Diploma students; Abel Bernard, Abdillahi Masud, Dhulkifli Dau and Alihusain Ramzanali, Rahil Kakkad and Taha Yusufali and the junior team comprised of Middle School and IGCSE students; Arav Dhoot, Huzefa Yusufali and Ali Ladak.
The IB students from the senior team commented after their first win, "The confidence of our formidable IB teachers meant we were able face the big challenges like shyness, being able unable to express ourselves and hesitation to face the crowd". Just as D.H. Lawrence said, our AKMSS debate club became 'hot'."
Arav Dhoot, a member from AKMSS junior team also observed, "I have become confident to debate and deliver speeches even if one million people are watching over. I know only an IB School like Mzizima shall provide me a platform to push-forward beyond what I have grasped at the grass roots".
As the famous English proverb says, "Where there's a will, there's a way", and that was evident at the Dar Open Debate Championship in October 2019. The competition was held at Almuntazir School with more than 20 teams participating from various schools in Dar-Es-Salaam and Pwani.
Mzizima was represented by two teams, the seniors and juniors. After two days of intense debate both teams reached the finals. Very unfortunately they had to compete against each other in the semi-finals. The senior team managed to pass through.
Erick Maximillian always tells his student debaters that, "Debate and public speaking is kind of an art - a way of expressing what you feel, and as a debater you get to learn about everything from politics to culture. Hence, you should aim not only to win but also get to know what other people think about and learn from different people".
Arav took this advice to heart and talks about how the debating help him explore himself, modifying and improving his skills and his approach to life. "I am just trying to excel from my previous self, improvisation and adaption. My father always says never let success go to your your head, keep yourself improving for the present and the future. Moving on is life."
The Mzizima senior team successfully debated the final round to become the overall winners of Dar-Open Debate Championships. They triumphantly collected the certificates, the medals and the trophy.
"It was a breathtaking experience for us, teachers, students and fans," enthused Erick Maximillian. "Our winners send their gratitude to those who are front line in their success - parents, trainers, AKMSS teachers and Head of School, Mr. Daniel Lazaro, they have always have guided us to the right track, providing us with motivation and helped us to take the advantage of all our opportunities.
Through its successes Mzizima hopes to inspire more Tanzanian and African students to take part in debating and public speaking as a way of addressing the socio-economic and political problems facing Africa. Erick concluded, "Students should start being confident in using the opportunities that are around them. It is indeed true as Chris Grosser said, 'Opportunities don't happen. You create them'."